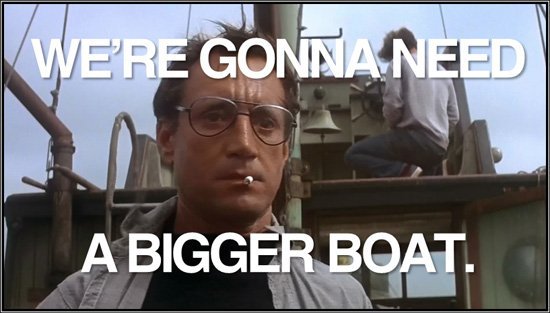 It's my favorite line from Steven Spielberg's 1975 Blockbuster, Jaws. "We're going to need a bigger boat!" Roy Schneider's telling Robert Shaw that his boat is not big enough to hunt the great white shark. But Robert Shaw is not having any of it. He's been out hunting sharks for years. He knows what he's doing. And Robert Shaw is going to pay dearly for his hubris.
That's how I feel about guys trying to take on the International Dating Industry to find a wonderful foreign lady. You guys need a bigger boat!
Well, it's not so much a boat as it is a better international dating process. The typical international dating process is flawed. And most guys never notice it.
The first point about how the typical international dating process is flawed is that the most visible, numerous, and easily accessed websites for international dating claim to help you. But they do not. If you want to seriously meet an international lady and date her, these websites aren't for you. As we explained in our last blog post, The Most Important Thing You Must Know Before Dating Overseas, these electronic letter writing companies are really designed to provide the entertainment for men who are not serious, or marriage-minded. These websites provide great entertainment, but they are a poor choice of company to use to meet and date serious, marriage-minded women. That's not to say that you can't use these sites to do so, it is just that the odds of having any success are lower than alternative methods.
We don't know exactly what that percentage of serious, marriage-minded men get caught up in these entertainment websites, and what percentage does not, but it doesn't really matter. Any percentage of serious men getting caught up in these websites supports our theory that serious men can get confused by the allure of these website profiles, and fantasies that they can tell themselves about these profiles. There are plenty of anecdotal stories found online about serious, marriage-minded men who got swept up into the wrong marketplace when they really wanted to find a serious, international marriage-minded woman. It's like the famous Johnny Lee country song lyric, "looking for love in all the wrong places."
But even if you avoid all those popular electronic letter writing company (ELWC) websites, there are still many challenges from the other flaws in the typical international dating process. In the graphic below, we have laid out a flowchart of a generic international dating process to show where the biggest flaws are in this process. On the graphic below, circles represent starting and stopping points, squares represent action steps, and the baseball-diamond shapes represent decision points. And you notice that most of the action steps have their own problem areas where you will want to understand how things can go wrong at this step.
The process starts in the lower left-hand corner with the "I Want To Date" circle. There are a series of decision points that occur before a someone goes off to date, and action steps along the way as they try to get more resources and knowledge before they go to another country to meet and date women.
But a man is usually doing these things by himself in isolation. Since I'm a sailor, I'm going to use a nautical analogy here. Sailing single handedly, or sailing by yourself, is easy and fun, provided that you have enough knowledge to sail by yourself, that you know the waters very well, and some storm doesn't rise up, swamp you and drown you. That knowledge of how deep the water is, and where the hidden dangers lie underneath the surface of the smooth and beautiful water is essential. And every decision point and action step in the typical dating process flow diagram has its own challenges and opportunities to cause you to wreck or get swamped.
The International Dating Industry is filled with rocks, shoals, coral reefs, sandbars, and strong currents that can quickly cause a wreck, leaving you to deal with the aftermath of an unpleasant situation all by yourself. When learning to do something new, it's always good to find some competent and experienced sailors who have spent many years on these waters and know where most of the hidden dangers lie. The ocean's landscape changes constantly and one thing you have to learn is that things change, new and interesting dangers can be just around a bend, and the way the wind blows can change at any moment. So you not only have to understand the local waters, you must also understand the weather and how the wind can change.
So if you're going on an international dating adventure, you better learn to be a capable mariner and understand the fundamentals of weather if you don't want to wreck.
Thanks for letting me use that analogy. We think it will serve you well. The quality of your training, the experiences you have had in the past, and even the beliefs you hold about yourself and others will affect the quality of the decisions you make while you are on your international dating journey.
There's no doubt about it, the quality of the decisions you make will directly affect the quality of your experience. And this point leads us to the First Problem Area in the international dating process flow diagram above. That flaw is that many men, when confronted with the decision to get more knowledge, do not think they need to learn much before they date overseas. This starts their whole international dating process off poorly because they typically make several bad assumptions or use naïve beliefs that start them on some dangerous courses near troubled waters.
Those bad assumptions or naïve beliefs are:
•       Men Assume That Dating Women In A Foreign Country Is Just The Same As Dating Them In Their Hometown
•       Men Assume That The Dating Journey Must Be Undertaken Alone.
•       Men Assume They Know Enough To Date Overseas.
Bad Assumption #1:  Dating Women In A Foreign Country Is Just The Same As Dating Them In Their Hometown
This first bad assumption leads a majority of men into many mistakes or poor decisions. In some respects, we believe the International Dating Industry would like you to hold on to this belief, because it allows many providers to generate revenue from your bad assumption. The most obvious example is our first Chapter where we explain how a vast majority of the money spent in the International Dating Agency goes to companies that are delivering entertainment to their customers.
Good men serious about finding a wife in another country can get easily swept up into this whirlpool of ineffective and expensive letter writing. These good men have a bad assumption that dating in a foreign country is the same as in their country, and they use this assumption to conflate (i.e., to bring together, to fuse, to confuse, and to combine things) all dating websites, when in reality they are very different websites. You would never conflate a company like Massage Envy (a franchise massage spa) that is in fashionable shopping centers and malls with a local, less reputable massage parlor found in the seedy part of your hometown where happy endings often occur.
There are a lot more aspects to how international dating is not local dating locally in your hometown, but we don't have the time to go into here. There are still so many essential things to cover. But we have lots of additional information on this subject on our website's blogs and other resources.
Bad Assumption #2:  The Dating Journey Must Be Undertaken Alone
If you think back to your days in Middle School or Junior High School when you first started becoming socially active with girls, this is the time where you developed most of your beliefs and skills for dating. Even if you didn't start dating to high school or college, you were watching or hearing stories about what others were doing (Hey, Steve! You were my hero in Jr High!)
Anyway, our belief systems are shaped when we are children and young adults, and it is only the School of Hard Knocks in life that starts knocking off the hard edges on most of these beliefs. Our point is that these beliefs that are instilled when we are very young are culturally dependent because different cultures treat and raise their children differently. This means that when you date foreign women, you will encounter long-held beliefs and dreams that mothers and grandmothers taught their little girls about what is the right man to marry.
Another important aspect to the formation of beliefs is that early in your teen years, you most likely had a core group of male companions with whom you shared which girl that you liked, how you were going to ask her out, and maybe even what the time was like that you spent with her. When we were younger, we were much more open to "peer group testing" our ideas with our friends. But as our confidence grew, that circle of friends who were part of our peer group became smaller and smaller, to where, as an adult, we were used to making our decisions by ourselves. Our dating confidence levels were high enough we didn't think twice about dating. We did it without peer-group approval.
This natural evolution of gaining more and more privacy in our personal lives works well in most situations. However, in international dating, the attitude that a man should embark on his international dating journey alone is usually another bad assumption. The pack or herd mentality is a much better strategy to use here. The strength and numbers of the pack keep the pack safe from predators, and the most vulnerable or weak members of the herd can still be protected.
Let's elaborate about what we mean my conducting your international dating journey alone, because this statement can be a bit confusing. We recognize that at certain times of your journey, you will be on one-on-one dates (and maybe have a translator along too). But it will only be you dating one lady at a time. There won't be a bunch of guys sitting at another table observing how your date is going.
What we mean about going on your journey solo is that during the action and decision steps in the process flow diagram, i.e., when you are conducting research and trying to learn by yourself or when you are evaluating decision points in isolation, you are interacting with her without the benefit of the counsel of successful men who have been down these same situations as you are now experiencing.
When you are on your international dating journey, there will be times when you have questions, and you will need to seek answers or decide. If you are on a solo journey, you may not have access to excellent information, and the differences in languages and cultures may confuse you. If you have worthless information or advice, this leads to bad assumptions, and bad assumptions lead to poor decisions, and poor decisions can break up relationships quickly.
You may need to be on your dates with international ladies without a wingman, but you don't want to be alone on your entire journey. You should strive to tap into the knowledge of successful men and even learn some things from the men who tried but failed to find their lady overseas. The Executive Officer on my first submarine hung a sign in his stateroom that said, "No Man Is So Useless That He Can't Be Used As A Bad Example." I loved that sign, but not when he pointed to it and said, "Don't be that guy!"
Bad Assumption #3:  You Think You Know Enough To Date Overseas
The third bad assumption that men typically make is usually one of ego, or overconfidence. Like the Captain in the movie "Jaws." The problem with being overconfident about dating overseas is that you don't know what you don't know. And if you don't know that you are going to need to know something, how are you going to know that you need to go learn about it.
The first bad assumption is a good example of this bad assumption. If you don't know that international dating is not like local dating, you're going to make the bad assumption that international dating is just like local dating. And if you don't know that you need to learn about how international dating really works, you're going to make a bad decision at the first decision point (Do I Need To Get Knowledge?) and not spend a time in the action step of accumulating some good knowledge.
You'll probably just jump right in and start using ELWC international dating websites to reach out to the profiles of women who most likely will never read your letters until the day you are in town to date her. You will have an entire relationship in your mind and expectations about her character and feelings, and she won't know you from Oleg, the guy who shovels shit at the pig farm outside of town.
But you will go into that first date thinking she has feelings for you, and she's going to be asking questions about where you live and what you do. You're going to be confused because you wrote about all these things to her months ago. The local marriage agency's translator is going to explain away all your questions and may end up confusing you even more. Some guys are lucky and can rise above all this confusion, and still date a lady, and some have even married them. But most guys get disappointed and wonder what just happened.
The other side of this coin is the successful man, through his own unique set of life skills, attitudes, and beliefs, can travel to another country, find his perfect lady, romance her, and bring her to his home country and marry her. He's also conducted a solo journey, and he succeeds in isolation. All the other men, who could truly benefit from his attitudes and actions, never get the benefit of his experience. The typical international dating process has few mechanisms that allow the good and bad experiences, dating strategies, beliefs, and solutions to tricky issues to be captured, retained, analyzed and synthesized into "Best Practices" or "Proven Strategies or Recommendations" for those men who are just starting out on their journey.
This is why collecting and analyzing the stories or both unsuccessful and successful men is part of Global Romance's mission. We not only want to learn from the success and failures of other men in the international dating community, we want to analyze this data and turn it into useful suggestions and knowledge that all men can access and use on their journey to find the International Woman of Their Dreams.
We will discuss the second, third and fourth Problem Areas in future blogs. For now, take a few minutes and think about your own Journey so far. Have you gone abroad to date ladies and failed already? Are you using one of those ELWC websites? Are you confusing these websites with western internet dating websites? If so, then consider slowing down and learning more about international dating. Our blogs here will help, and the eBooks and paperback books that we sell on Amazon.com and many other bookstore websites.
In the meantime, consider joining Global Romance and contributing your story to us so we can help others learn what really works in the actual world of international dating.
Have a good one!
John Klose
If you liked our post, please share it on your social media!